Makes it easier for Pilots, Technicians and companies
Flightlog Backup is the online system provider for the daily work of pilots, technicians and companies with our personal user accounts and company modules.
Logbook

- log your flights, view statistics and monitor your total times

Reminders

- keep track of your certificates, ratings, medical etc and corresponding expiration dates

Flight planning

- plan directly on map, view METAR/TAF, calculate fuel/TOC, print FPL

Community

- upload photos and videos, share stories and connect with other people in the business

iPhone / iPad

- log your flights, upload your papers hardcopies etc directly from your phone / tablet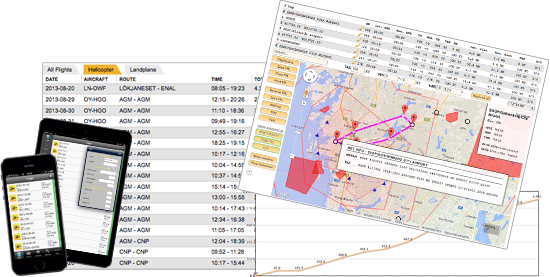 Company management solutions
The company modules create a perfectly integrated communication network through the entire company.
Flight Ops Manager

- keep track of all personnel and corresponding documentation, minimas, limitations and schedules

Quality Manager

- handle all company internal reports; assign responsibles, watch history, view statistics

Economy

- handle mission reports, view summaries and statistics, print invoice documentation

OP

- schedule personnel and aircraft

Library

- library function with revsion handling spanning across all modules and accounts
Read more...
Signup »
FLB news
Version 2.2.2 is now available. Updated for iOS 8 and some bug fixes from earlier version 2.2.0.
Version 1.1 of the TEC app for iOS is now released and ready for download on the Appstore.
General improvements and iOS7 update.
FLB technician log book accepted and recommended by the Danish CAA.
Module users can now post company news and information.
This page is the new startpage for each module account.
The other users have this as first page when enter Company section in FLB.
We have now launched our new feature, the Technician Log book!
We have launched an iPhone application at the same time, download it from Appstore, FLB TEC.
We have launched a new Ticket system and a Patch note function. Where you as a member can write to the support team and get answers in FLB, no need to keep conversation in a bunch of emails.
The Patch note function will make it easier for members to keep up to date will all changes in the system, big and small.
New 2.0 version on appstore with iPad and iPhone 5 support.
Now you can check METARs, TAFs and other station information in the new version of FLB iPhone App.
Version 1.1 is now available for download with some new functions.
You can now for example add and edit your papers and even upload a hardcopy to your paper from the App.
Yes, finally we have our App for iPhone up on AppStore!

With the new app you can log flights offline, checking your papers, read news and watch photos.